News and Reviews of Tell It Like Tupper by J. Mark Powell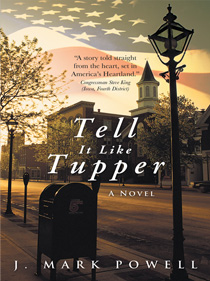 Get ready to visit the places where presidents, both real and fictitious, have walked.
From a snow-covered country road in present day Iowa to a decorated box inside Ford's Theatre at the end of the Civil War, J. Mark Powell takes you on a captivating journey into America's heartland, and into one of the most heart-breaking moments in American history.
He draws on his many years as a TV journalist, his experience as a congressional staffer in Washington, and his lifelong passion for history to craft intriguing tales.
Powell's storytelling brings a you-are-there believability to the scenes he describes, and he couples it with characters so crisp and authentic, you feel you know them. Throw in fast-paced excitement, and you can see why one reviewer calls reading his novels "a delightful trip that always leaves me ready to go again."
Tell It Like Tupper, J. Mark Powell's newest novel, is the charming tale of how a small-town engine repairman's life is turned upside down when he unknowingly becomes friends with a presidential candidate. Thanks to Glenn Tupper's common-sense advice, his new pal is launched on the road to his party's presidential nomination, and Tupper winds up in the national spotlight. It's tremendous fun … until a dark secret is exposed that threatens to destroy Tupper's family. With America watching, it's up to a quirky campaign blogger to find out who is behind the dark effort to derail the candidate and ruin Tupper's life. The story races to its climax on the eve of New Hampshire's presidential primary, with everything hinging on what is uncovered.
Praise for Tell It Like Tupper!
"Tell It Like Tupper is told straight from the heart, and is set in America's Heartland. It accurately portrays the virtues of real-life Iowans who, just like Glenn Tupper and his fictitious neighbors, aren't afraid to meet the challenges that come their way.  A must-read for anyone who enjoys the charms of small-town Americana, with a behind-the-scenes glimpse into presidential campaigning thrown in, too." –Congressman Steve King (Iowa, Fourth District)
"From the farmlands of Iowa to the brick textile mills of New Hampshire, the path to a party's presidential nomination winds through many locations.  Tell It Like Tupper takes its readers along for the ride, with a you-are-there feel that realistically captures life on the campaign trail.  A perfect story for those of us who still believe, as Ronald Reagan believed, that America's best days are yet to come." –Mike Biundo, National Campaign Manager of Rick Santorum's 2012 presidential campaign and political consultant
"Like Tupper, I'll tell you like it is—this book is a delight! A funny, affecting and disturbingly accurate look at American elections and the politicians who all-too-often stumble through them. A must-read for my fellow political junkies." –Michael Graham, Talk Radio Host and frequent Fox News contributor
"Magic is created in Iowa and New Hampshire when everyday people interact with some of the most powerful people in the world. Tell It Like Tupper captures these surreal moments and reminds us that for all of the charm of town hall meetings and ice cream socials, the one place you don't want to be is between a politician's ambition and the title of the most powerful person in the world." —James Pindell,WMUR.com Political Director and editor of New Hampshire Political Scoop
St Joseph Public Library: Preserving Yesterday, Informing Today, Inspiring Tomorrow
Find out what the St. Joseph (MO) Public Library staff are reading as they partipate in the Missouri Book Challenge! September 17, 2014 By Sara Seymour 
J. Phillip Granby is hoping to secure the Republican nomination for the presidency and is in Iowa preparing for the state caucus.  His car breaks down and he is picked up by Glenn Tupper and given a ride to his destination.  They become acquaintances and, eventually, friends.  Soon Granby is quoting Tupper in his speeches and referencing his friend's common sense and, as a result he is gaining ground in the polls.
What happens to slow down the momentum and threaten Tupper's family and Granby's future is not hard to predict but the story is a good one, nonetheless.  With references to Des Moines, Cedar Rapids, Ottumwa, Mason City, Osceola, and even Trenton, Missouri, at one point, this was a fun book to read.
Author Interview with J. Mark Powell
By Reviewer Marion Marchetto, August 5, 2014
Let me introduce to you author J. Mark Powell whose book
Tell It Like Tupper
I was honored to read and review a few months ago. Find out what he has to say about everything from his most and least favorite parts of the writing process … to which three people he would invite to dinner, and why. 
READ THE FULL INTERVIEW HERE
.

Listen to J. Mark Powell's interview with Michael Graham on Atlanta's NewsRadio 106.7 FM morning show!  June 27, 2014.

ST. JOSEPH NATIVE RELEASES NOVEL
St. Joseph (MO) News-Press  (April 30, 2014)
St. Joseph native J. Mark Powell has released a novel set in southwest Iowa. Creston, Iowa, is the backdrop for "Tell It Like Tupper," the tale of an everyday man caught in the national spotlight.  Read the full story.

GO INSIDE THE 24 HOUR NEWS CYCLE
By Laura Carrell,  The Ottumwa (IA) Courier   (April 22, 2014)
OTTUMWA — It's a story of political campaigning, dark secrets and the painful glare of the national spotlight — and Ottumwa plays a cameo role. In J. Mark Powell's new novel "Tell It Like Tupper," several southern Iowa towns provide much of the story's backdrop. The bulk of the story takes place in Creston and other Iowa cities and towns, such as Des Moines, Council Bluffs and Ottumwa.  Read the entire story.
Read the 5-star review of TELL IT LIKE TUPPER from reviewer Marion Marchetto  (March 31, 2014):
"Tell It Like Tupper is a powerful novel not only for its exposition of the underbelly of politics and the dream of a candidate who does the right thing but for its uncovering of the secrets that real, everyday people keep in order to move their lives forward. The story never lags, and just when you think you know what will happen something occurs that will keep you reading. The characters in the book are believable and you'll find yourself rooting for first one, then the other.
"I normally don't like political books but this one is so much more. The human qualities of the characters are first and foremost while the political backdrop is just that – a stage where the human story is played out. This is one novel I'd like to see made into a movie. I look forward to more from author J. Mark Powell."     READ THE ENTIRE REVIEW HERE.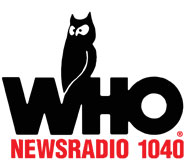 WHO Radio Interview (February 24, 2014) 
Host Simon Conway on Newsradio 1040 WHO in Des Moines, Iowa interviews author J. Mark Powell about his newly released Tell It Like Tupper!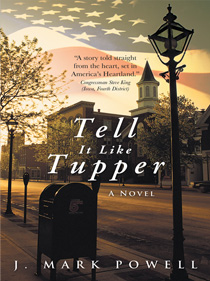 Concord Monitor (Sunday, December 15, 2013) by Monitor Staff Ben Leubsdorf
Capital Beat: A senator, a blogger and an engine repairman wander into a presidential campaign . . . 
A down-on-his-luck U.S. senator isn't getting much traction in his presidential campaign – until a chance encounter with an Iowa engine repairman provides him with homespun wisdom that helps him get his groove back. Rick Santorum? John Kerry?
Try Pennsylvania Republican Sen. Phil Granby, who vaults from the back of the pack into a dead heat with the GOP front-runner, Florida Gov. Bob Morgan. But while the presidential campaign moves from the fields of Iowa to the West Side of Manchester, nefarious forces take aim at Granby and his new everyman adviser, Glenn Tupper.
That's the plot of Tell It Like Tupper, a new novel by J. Mark Powell, the former communications director for New Hampshire congressman Frank Guinta who's now working for South Carolina Attorney General Alan Wilson. Powell, a former television journalist, said he hasn't worked on a presidential campaign, but "I've covered a bunch of them from the news end. . . . I think that'd be great fun one day."  Read full article!
Lexington County Chronice & Dispatch News, January 23, 2014 by Jerry Bellune
Want to Write? Do It Like Nike and Just Do It!
Lexington novelist Mark Powell's day job is as State Attorney General Alan Wilson's communications director. He brings years of experience as a TV journalist to the job but writing has been a lifelong love affair. In this Q&A interview with Editor Emeritus Jerry Bellune, he talks about his business and literary career… Read article!
Creston News Advertiser, February 4, 2014  by Courtney Dake
"Tell It Like Tupper" by J. Mark Powell takes readers behind the scenes of a campaign trail with Creston, Iowa, as the backdrop.
The heart of the story, Creston, with few exceptions, is sketched as a small-town landscape, home to family-oriented people with Midwestern values. As the presidential election approaches, Senator Phil Granby, seeking the Republican nomination, journeys to Iowa for some last-minute publicity before the caucus.
When his car breaks down on Highway 34, he doesn't expect to meet Glenn Tupper, a small-engine repairman from Creston. Tupper pulls over to give Granby a ride, and, believing Granby is a traveling insurance salesman, candidly expresses his opinion about political candidates and their empty promises. Granby's campaign takes a turn for the better in Cedar Rapids when he throws out his speech and appeals to the audience with Tupper's idea — authenticity and honesty. Seeking more advice, Granby travels to Creston and forms an unlikely friendship with Tupper. With Tupper in the background, Granby's campaign gains much-needed momentum.  When media attention shifts to finding Tupper, secrets are revealed, lives change and new futures manifest… Read full article
Listen to this radio interview with J. Mark Powell from KSIB Radio in Creston: http://www.ksibradio.com/audio/grapevine/GV%20TELL%20IT%20LIKE%20TUPPER.mp3
Foster's Daily Democrat (Friday, December 13, 2013)
On the eve of the N.H. presidential primary … a mystery
COLUMBIA, S.C. — What happens when an everyday guy unknowingly becomes friends with a presidential candidate? For Glenn Tupper, life is turned topsy-turvy and his family is pushed to the brink of disintegration. That is the premise of Tell It Like Tupper, a newly-released novel written by former New Hampshire Congressional staffer J. Mark Powell… Read full article
The News & Reporter, Article by Brian Garner Tuesday, December 10, 2013 at 8:49 pm (Updated: December 11, 8:18 am)
Political novel has scene set in Chester
A newly released novel by the communications director for S.C. Attorney General Alan Wilson has an important scene set in Chester.
The novel, Tell It Like Tupper, is a new novel written by J. Mark Powell. The book tells the fictional story of 'what happens when an everyday guy unknowingly becomes friends with a presidential candidate,' according to the news release from the author.
Powell knows well the national political scene. He is a former staff member for New Hampshire Congressman Frank Guinta and a former journalist for CNN.
The novel's main character, Senator Phil Granby, begins his Republican presidential bid in Iowa and after a disaster there, turns his attentions to South Carolina, the second of the Big Three primary states. His staff chooses Chester as a place to get his message out.
The author said he chose Chester for that scene because he "thought like a communications guy" and realized Chester would be a good half-way point between Charlotte, N.C. and Columbia… Read full article