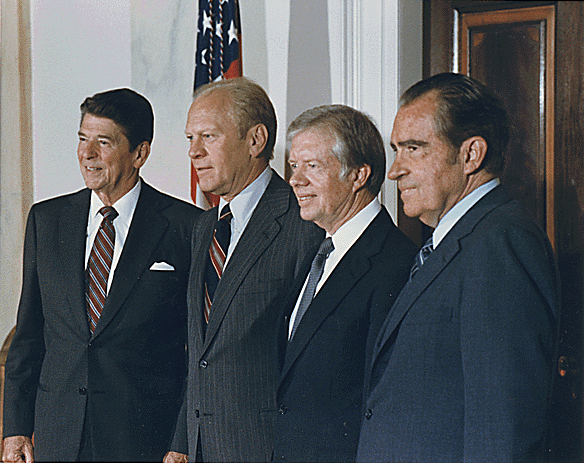 Somewhere in America at this very moment, someone may be walking around with LBJ's class ring on his finger, Abe Lincoln's telegrams in his pocket, Harry Truman's swords in one hand and an oil portrait of FDR in the other.
The National Archives says those items, plus many other presidential and historical oddities, are missing. And the Feds don't have a clue where they could be.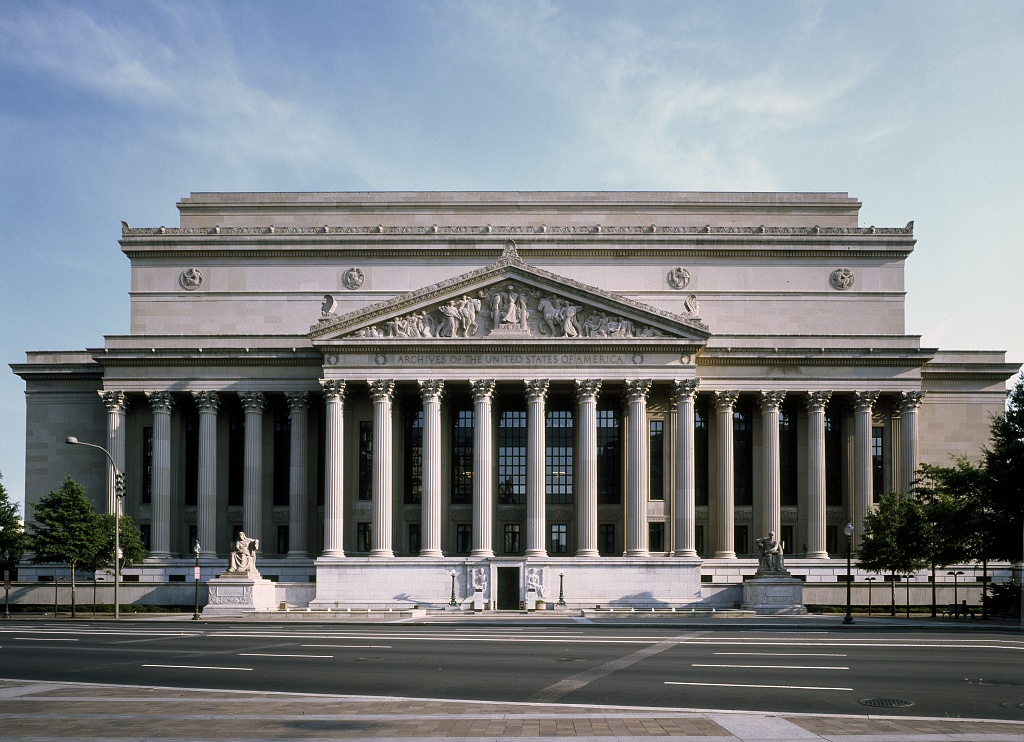 It's the National Archives and Records Administration's job to preserve everything Uncle Sam wants to hang on to. There's a mountain of it, too. At last count the agency has about 10 billion pages of written documents; 12 million maps, charts, and drawings; 25 million photos and graphics; 24 million aerial photographs; 300,000 reels of movie film; 400,000 video and sound recordings; and 133 terabytes of electronic data. It also looks after the papers and other historical materials in 13 presidential libraries going back to Herbert Hoover.
Given all that stuff, it's understandable that a few things slip through the cracks from time to time.
But when a missing item once belonged to a president, it's serious. (It dramatically increases the object's monetary value, too.)
Here are several presidential possessions the National Archives can't find.
Harry Truman's Swords
When you're President of the United States, people give you things. Foreign leaders are especially generous. It's a way to make their country look good in the president's eyes.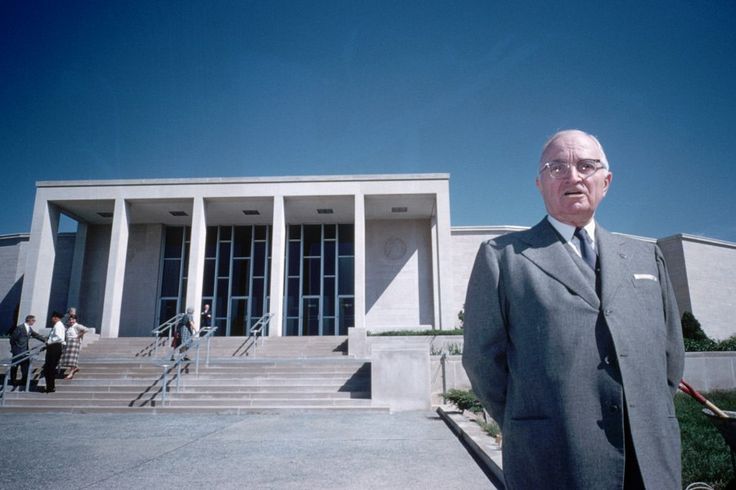 Harry Truman was a man of immense personal integrity. He believed that when he was given an official gift, it rightfully belonged to the American people. That's one reason why he created the Truman Presidential Library and Museum, so everyday folks could see all those glitzy gifts.
Unfortunately, a couple of guys decided to help themselves to some of them.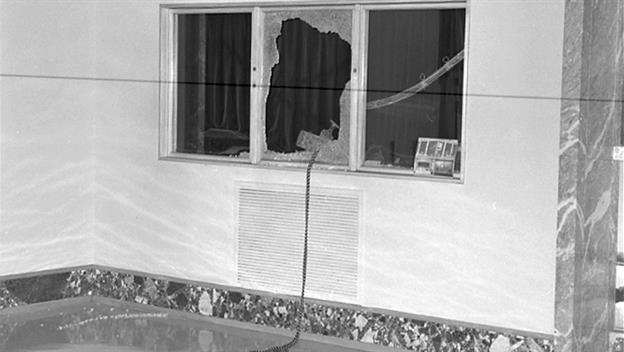 As daylight was breaking one Sunday morning in March 1978, two men broke the library's glass front door, darted to a trio of display cases, smashed them open, and were gone in 45 seconds.
Also gone were three ceremonial swords and two daggers given to Truman by Saudi Arabia's Crown Prince and the Shah of Iran. All were hand crafted, featured such finery as gold chains and ivory grips, and were studded with glittering diamonds, emeralds and rubies. When Truman donated them to his library in the late 1950s, the group was appraised at $90,000.  Today, who knows? But $1 million is a good estimate.
Nearly 40 years have passed since the robbery, and the purloined presidential gifts haven't been seen since.
Lyndon Johnson's Class Ring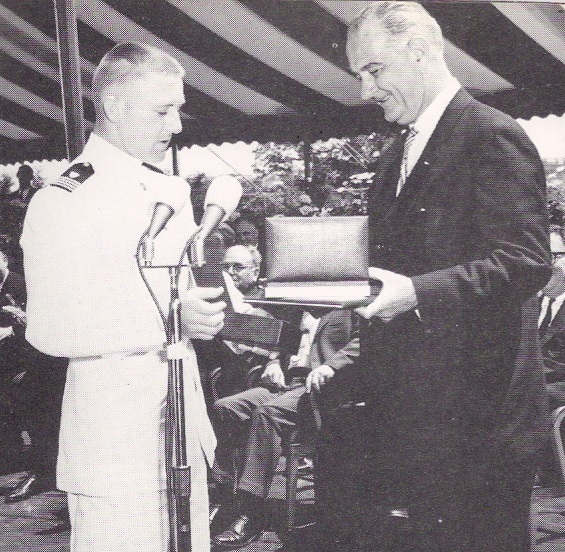 John F. Kennedy loved everything about the sea. So it was only natural that he accepted an invitation to deliver the commencement address at the U.S. Coast Guard Academy's 1964 graduation ceremony. After his assassination, President Lyndon Johnson honored Kennedy's commitment and spoke.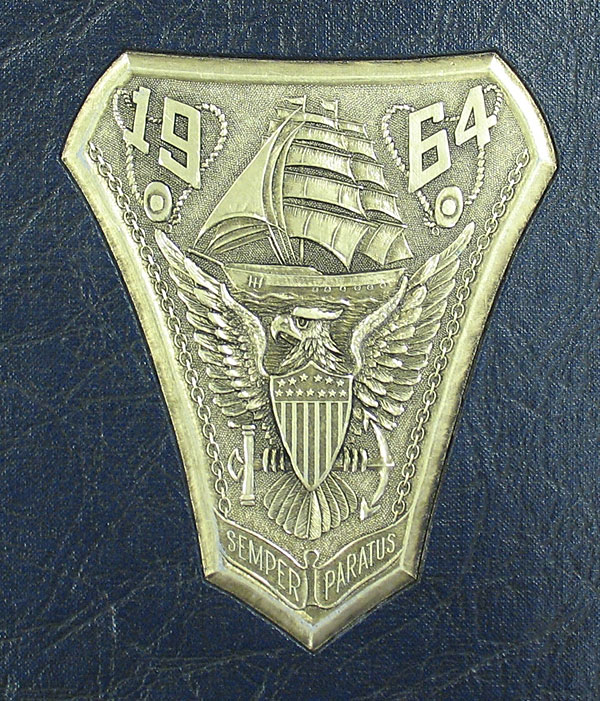 The graduates were grateful, and did something special to show their appreciation. They made him an honorary member of the Class of '64 and gave him his very own class ring. It was yellow sapphire in 14K gold setting, with a bas-relief ship on one side and crest on the other, and was engraved with –what else?- "LBJ."
It has disappeared from the Johnson Presidential Library and Museum, and they would very much like to have it back.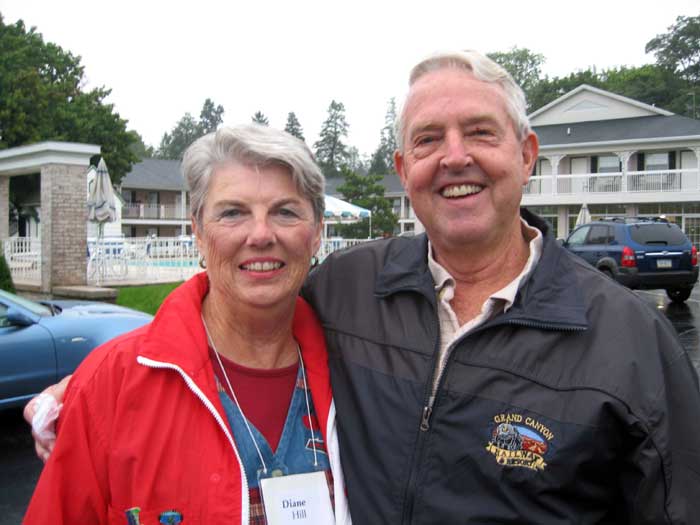 [Full disclosure: my father-in-law, USCG Captain Ralph Hill, retired, is a Coast Guard Academy graduate … and a truly great person, too, along with his wife Diane.]
FDR's Official White House Portrait
Ellen Emmet Rand's name may not ring a bell today. But in her time, she painted the likenesses of the rich and famous, immortalizing more than 500 folks in her beautiful oil portraits.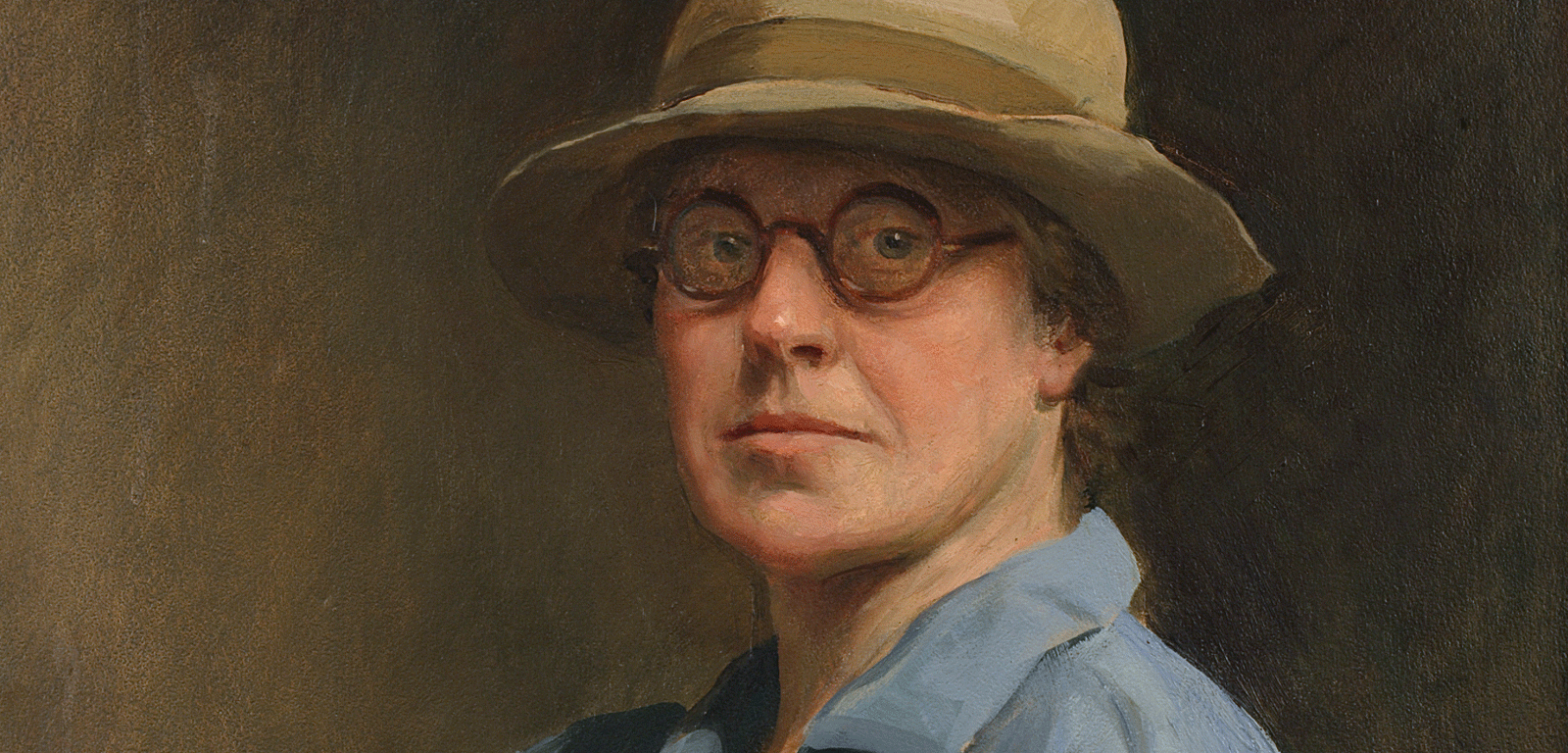 She tried to paint President Theodore Roosevelt once but eventually gave up because, in her words, "he couldn't sit still."
Rand didn't have that problem in 1934 when Teddy's cousin Franklin sat for her. FDR liked his painting so much, it became his official White House portrait.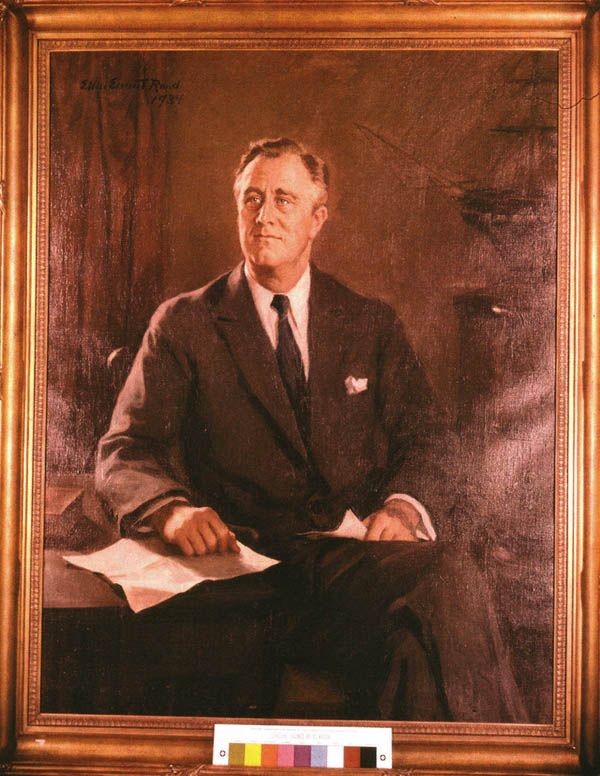 At some point after his death, and for reasons unknown and difficult to understand, the portrait was moved to the Franklin D. Roosevelt Presidential Library and Museum in Hyde Park, New York. (A copy of the original currently hangs in the White House.)
One day in the spring of 2004, Boston University professor Peter Rand was doing research at FDR's library, and asked if he could see Grandma Ellen's painting. We're sorry, the library staff told him, but it's not available for viewing. No big deal, he thought. Museums frequently rotate displays to keep visitors coming back. He would catch it next time.
Imagine Rand's surprise when he got a letter from the library six months later saying the painting was missing. "I couldn't believe what I was reading," Rand recalled. The letter said nobody could remember seeing the portrait since it was moved to temporary storage in 2001.
How anyone could "lose" a more than 5-feet high and 4-feet wide picture housed in a gilt wood frame and stored in a 250 pound art crate is simply beyond me.
While it appears this is a cold case, the painting remains listed in the FBI's National Stolen Art database of stolen art and cultural property.
Abe Lincoln's Telegrams
If Lincoln were alive today, we would call him a Technology Geek. He loved the latest inventions and scientific advancements, fully grasping their practical benefits and applications.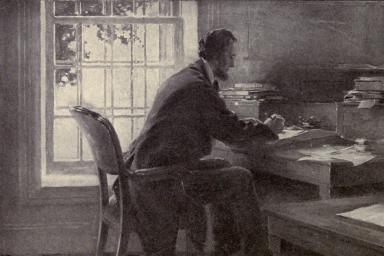 One of his favorite devices was the telegraph. He appreciated the ability to communicate instantaneously with anyone, in any part of the country, at any hour of the day or night. There was a telegraph office adjacent to the White House in the War Department (where the Old Executive Office Building stands today). Lincoln sent messages so often, a special pad was created so he could jot down the text, then send the page by courier to the telegrapher next door.
The government saved all those documents. Because they written in Lincoln's own hand, they're very valuable today. Many reveal the ho-hum daily drudgery of a president in wartime. Consider this one from April 29, 1864:
"General Brayman –
"I am appealed to on behalf of O. Kellogg and J.W. Pryor, both is prison in Cairo, Ills. Please telegraph me what are the charges and summary of the evidence against them.
"A. Lincoln"
Hardly exciting stuff. Not nearly as dramatic as, say, "How's the Battle of Gettysburg going? We're dying to find out here!" Still, this was Lincoln after all, and each individual tile combines to create a compelling mosaic.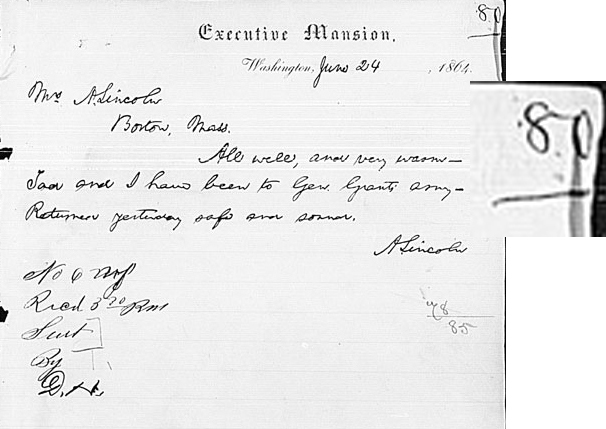 In 2008, the National Archives made digital scans of all those messages. To its horror, it discovered five of them were missing.
But there is a silver lining behind this dark cloud. A few years ago, a researcher compared each scan to its original document. Someone during the Civil War had numbered every telegram, and #80 was among the missing. Or so it seemed.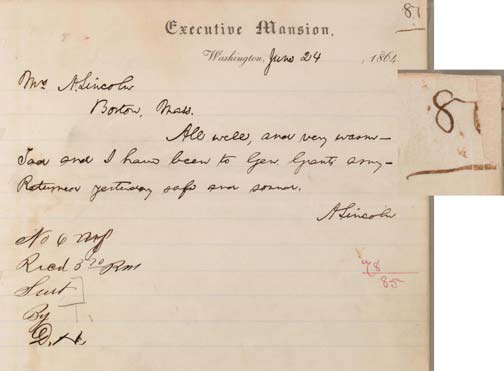 A closer look revealed what happened. At some point after the scan was made, a brittle section of paper on the upper right corner broke off, taking the right half of the zero with it. The result: the remaining left side of the 0 now looks like a 1.  #80 wasn't missing; it was right there in the archives after all, safe and sound, though a little worse for wear.
There's no word on what may have happened to the four other unaccounted for Lincoln telegrams.
As far as historic relics go, these aren't hugely significant. A ceremonial sword and class ring can't compare to the handwritten Declaration of Independence or the original Star Spangled Banner that Francis Scott Key saw flying over Fort McHenry.
Yet they possess intrinsic value all their own, an intimate connection to a man as well as a president. Things such as a quickly dashed telegram ("To Mrs. Lincoln, NY: Tad arrived safely, and all is well, A. Lincoln") put a human face on a historic figure that reveal not a head of state, but a caring husband making time in the middle of a bloody war to reassure a worried wife. Those dozen simple words say more than entire pages of a biography ever could.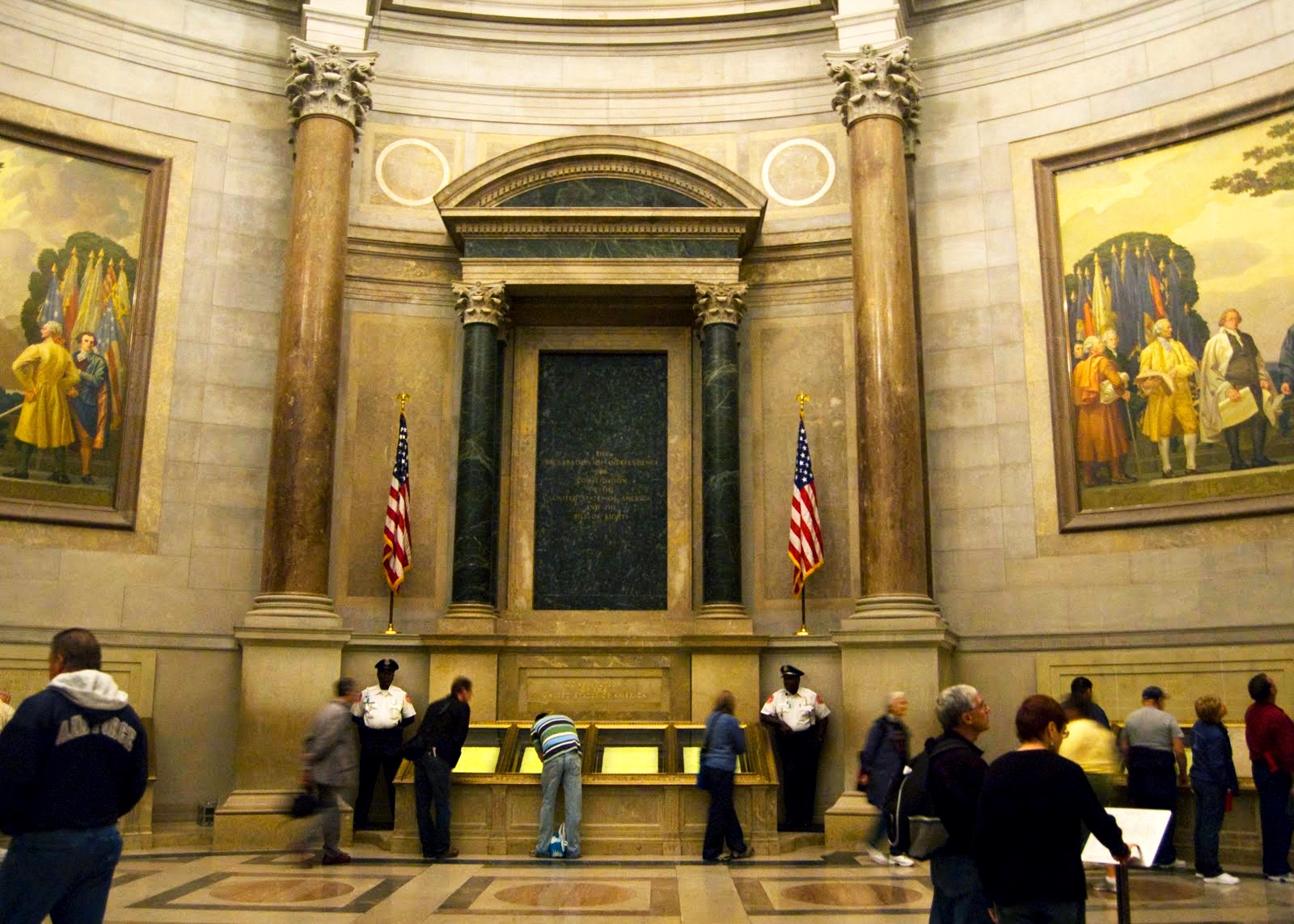 And when presidential items are lost or stolen, you, me, and every American are poorer for the loss.
Did you find this enjoyable or helpful? Please continue to join me each week, and I invite you to read Tell it Like Tupper and share your review!
Curious about Tell It Like Tupper? Here's a chance to see for yourself. Take a sneak peek at a couple chapters in this free downloadable excerpt.